Against All Odds Award Winner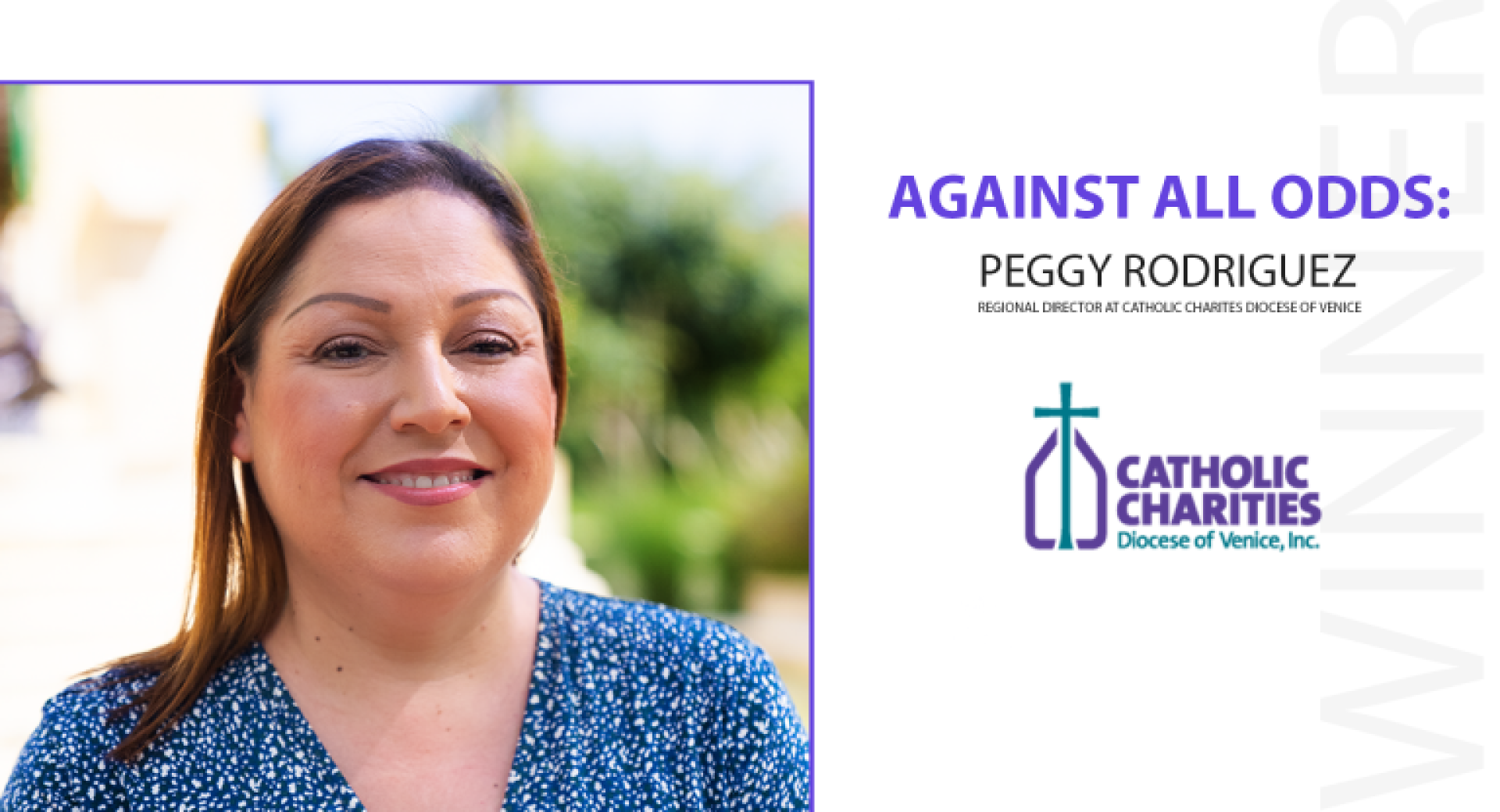 Naples, FL, July 11, 2022 – The Collier County Board of County Commissioners will present Peggy Rodriguez of Catholic Charities the "Against All Odds" award at 9 a.m. on Tuesday, July 12, in the Collier County Commission Chambers.
Peggy's life began as the daughter of migratory farm workers that settled permanently in Immokalee, FL, in 1972. Peggy married young, had children, and soon experienced the familiar financial hardships her parents shared. Determined to change her future, she began working as an administrative assistant at Guadalupe Social Services of Catholic Charities Diocese of Venice, providing food and shelter, counseling, financial assistance, and education to those in need. Peggy worked hard, was well-liked, and rose steadily through various positions, from administrative assistant to caseworker to assistant program director, and was most recently promoted to regional director, reporting directly to the CEO.
Today, Peggy leads four locations throughout Collier County, manages a staff of 27, and leads more than ten programs, including the Casa Maria Soup Kitchen, clothing and shower program, education services, financial aid, and pantry–on–wheels, to name a few. Locations include the Collier Senior Center and Family Counseling Center in Golden Gate, Judy Sullivan Family Resource Center in East Naples, and Guadalupe Social Services in Immokalee. Peggy is also working toward her business management degree and maintains a position on the dean's list. Eddie Gloria, CEO of Catholic Charities Diocese of Venice, said, "I am so pleased and thankful that the Board of County Commissioners has recognized Peggy as someone who has persevered and overcome. Her life and story inspire us all. What I appreciate the most about Peggy is how she has used her growth and success to serve others so that they too may find a better day."
The Collier County Commission created the "Against All Odds" Award in 2016 to honor those in the community who have shown perseverance in accomplishing their goals despite having challenging circumstances. The initial award was given to Collier County student turned NFL football player, Mackensie Alexander. Mackensie, the son of Haitian immigrants, worked alongside his parents as farmworkers while attending school. Mackensie achieved his NFL dreams in 2016 and was drafted into the NFL by the Minnesota Vikings.
About Catholic Charities Diocese of Venice, Inc.
Catholic Charities Diocese of Venice, Inc., is a nonprofit founded in 1984 by the Diocese of Venice in Florida and serves as a resource to the community offering health and human services, food pantries, counseling, legal assistance, rapid re-housing, education, and disaster response. Catholic Charities Diocese of Venice is located in 10 SWFL counties, including Charlotte, Collier, DeSoto, Glades, Hardee, Hendry, Highlands, Lee, Manatee, and Sarasota. The mission of Catholic Charities is to provide help, create hope, and serve all. For more information, visit catholiccharitiesdov.org.